Investing in your home is one of the best ways to make money.
If you add extra features that are desirable to those looking to buy a home, you increase the value of your home by thousands.
Keep reading to see some of the top ways to add value to your home.
Make any repairs with good quality replacements
This is one of the easiest ways to make drastic improvements to your home, that does not have to break the bank, and can increase potential value by around 10%
One of the most common repairs homeowners looking to sell make to their home is repairing or replacing exterior features of their property.
Repair/Replace your roof
Faulty or poor quality roofing systems can cause many problems within the home and can deter potential buyers.
A faulty roof can cause leaks, damp, excess energy loss, infestations, danger to people within its vicinity etc.
So it should be a high priority to make this home improvement, especially if you are looking to add more value to your home.
If you think that replacing your roof is something you should do, make sure you replace it with one that costs little to maintain and is easy to install.
EPDM rubber roofs are just one option for flat or low pitched roofs as they are durable and stylish as well as being practical and easy to maintain. More.
More exterior features to think about improving would be windows doors and any visually unappealing features like cladding or shutters that hinder the look of the property.
Make the living area open-plan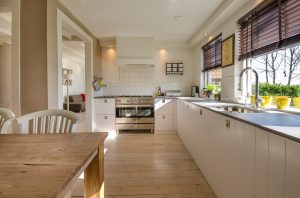 If extending your home does not appeal to you, a home renovation like making the downstairs open plan may be a better option for you.
This could also help you save money, compared to the price of an extension but still maximise the space. Take a look at some great examples here.
Knocking the wall between the living room and kitchen is a popular value move in modern homes.
Of course, this all depends on if the wall separating them is load-bearing you should definitely call in a professional for this job to help you decide how you will design the room and how the job can be done to add value.
Get a new bathroom
Many homes these days are lovely and modern downstairs, with value-boosting features such as extensions, new appliances and so on, but little attention is paid to the upstairs, particularly the bathroom.
It is commonly seen that bathrooms remain in the 20th century making them look dirty and unattractive.
It is important that in order to attract potential buyers, you have a working bathroom with new amenities. You could ad between 5 and 10% extra value.
There are ways you can make these changes without drastically changing the layout or features of the room.
Simply repainting a dingy bathroom to a light colour can make it seem more modern and comfortable.
More Investment Advice